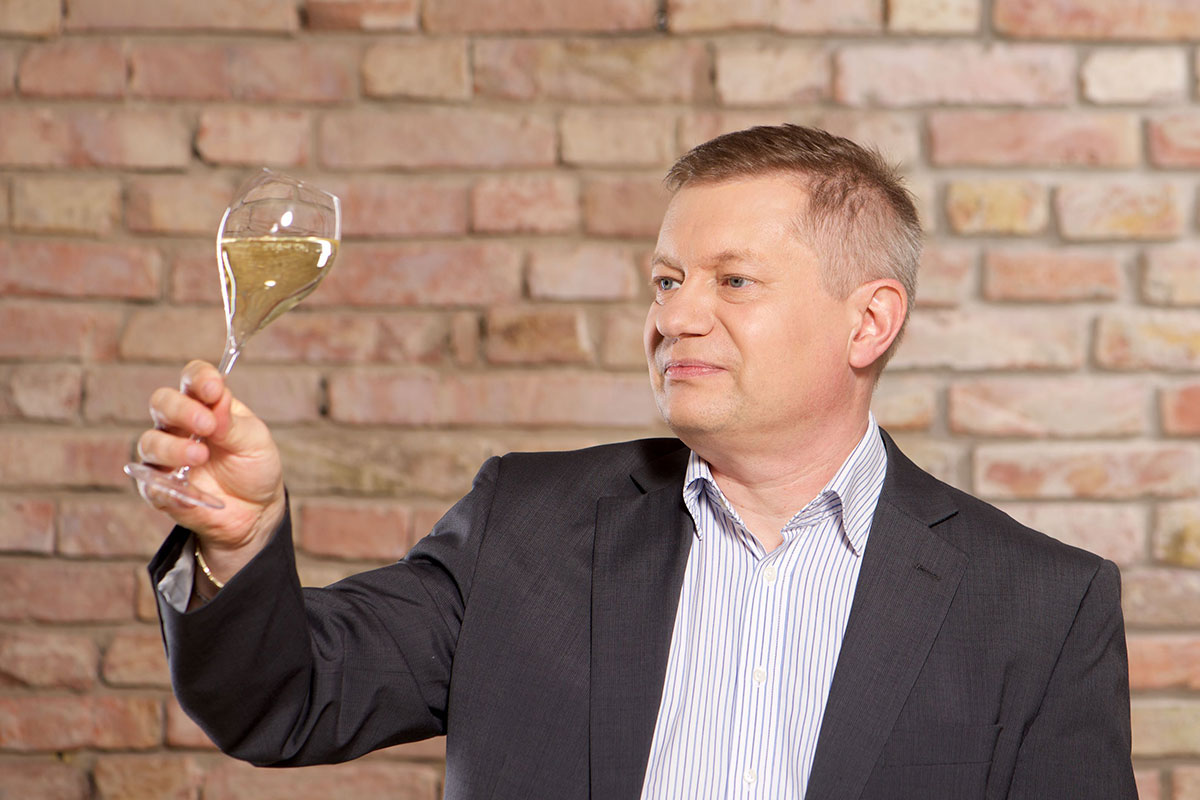 01 Nov

Quality and tradition puts a sparkle in Hungarian wines
György Kovács, Managing Director, Törley, explains how environmentally friendly innovations are keeping his company at the forefront of domestic and international wine markets
József Törley founded his sparkling wine cellar in 1882. Today, almost 140 years later, the group has become the leading sparkling wine producer in Hungary and an important bubbly brand in Europe. To start this interview, could you give us a brief overview of the group and explain what the name Törley stands for in Hungary?
Törley is a well-established name in Hungary. We have many brands on the market—such as Hungaria, BB and Chapel Hill—however, our main brand is Törley. This is why we decided to change our company name back to Törley in 2005. Today, the group counts about 320 employees. We cover the entire line of sparkling wine production, starting with the grapes. We have about 900 hectares of own vineyards in Etyek and in the south part of Lake Balaton there are another 1,000 hectares, where we have contracted growers who provide us with grapes. Törley's turnover is about €57million a year and our total production altogether—including still wines in bulk and bottles, sparkling wines and so on—is about 37 million units of 0.75-liter bottles.
We process our own grapes, then age our wines in our cellar before we bottle them. We have three bottling lines, a modern warehousing system and so we serve our customer with excellent goods. Everything, from IT to human relations, exports, marketing and domestic sales is also done in our Hungarian headquarters. Törley belongs to the Henkell Freixenet group. In fact, we were the first company that Henkell acquired when it decided to go out from Germany to buy other brands in other countries.
Törley produces its wide range of sparkling and still wines using all kinds of technologies and methods. What are some of the group's best-selling products that you are particularly proud of, and what unique know-how and expertise has Törley developed over the past 140 years?
In the sparkling wine segment, sales on the domestic market account for about 60 percent of our turnover and the export market for the remaining 40 percent, depending on the exchange rate. Törley as a group has about 65-percent market share in Hungary for sparkling wines. We have three important brands: the first one, Törley, has about 35 percent market share in Hungary, and sells very well in other countries like Estonia, Latvia and Lithuania, which are important target markets for us.
The second brand is Hungaria. We are producing about 2 million bottles of Hungaria using the method transvasée, where we ferment the sparkling wine in 1.5-liter bottles before transferring the liquid after filtration in 0.75-liter bottles. Roughly, more than half of the bottles are sold on the domestic market and the remainder, about 700,000 bottles, is sold in Canada, on the east coast in Quebec and Ontario. Our brand Hungaria is very important in Quebec and we are very proud of that, even more so as Quebec has a very strong French heritage. We are the market-leading sparkling wine seller in Quebec, ahead of French sparkling wines. Our third brand is BB, which is sold mainly in the domestic market.
In the still wine sector, the situation is a little bit different. 60 percent of our still wines are exported, while the domestic market accounts for 40 percent. In Sweden, we sell under the brand name Chapel Hill and we are recording a nice 6-8 percent growth in this market. Chapel Hill is picking up nicely in the Scandinavian market, and is also sold in the Netherlands, Canada and the U.K.
Törley is also very important in the Baltic countries. In Estonia, for example, we started selling the brand in 1992. Although Estonia is a small country with only about 1.2-1.4 million people, we sell about 1.2-1.4 million bottles there, so the per-capita consumption of Törley sparkling wine is higher in Estonia than in Hungary. In Latvia, we sell nice amounts of Törley as well.
Do you have any plans to approach the U.S. market?
The U.S. market is quite difficult to penetrate. There are big players present in that market that are occupying many retail chains. Our sales are very weak there, leaving us lots of room for development. We are much more developed in Canada.
Today's consumers are increasing asking for more quality and innovation from the food and beverage industry, with a large focus on healthy, organic products. How does a group like Törley meet this new customer demand, and nurture a culture of quality and innovation? What other trends are you experiencing in your markets?
In the last few years, we have noticed that sparkling wines have gained in popularity all over the world—in Europe, the U.S., Russia and so on. Over the last 3-4 years in the domestic market, before the COVID crisis, the market was flat from a quantity point of view but was increasing by double digits in value. Consumers are increasingly looking for high-value sparkling wines. Another trend in the domestic market is the shift from a traditionally sweet wine preference to dry wine. I'm sure that in the future this trend will consolidate and that Hungary will move more and more toward dry wines. Rosé wines are also gaining in popularity. We should also mention an interesting move toward 0.2-liter bottles of sparkling wines—sales of these bottles increased by 30 percent last year.
We are already seeing the trend of organic still and sparkling wines coming to our country as well. Vegan wines are becoming more fashionable as well, so we are continuously improving our technology and have started to convert our vines into vegan. Just a few weeks ago, we introduced our first Törley Bio sparkling wine on our domestic market.
As I said, sparkling wine sales are increasing all over the world: in the U.K., Scandinavia, Canada, everywhere. Our sales are increasing in China as well, for both still and sparkling wines. We need to be careful with China, as we have heard some people say that Chinese consumers will soon consume half of the world's wine. That is not true. Our sales started to increase again in China in the summer, after the COVID crisis, and we sold more to China this year than last year. Yet again, China is only one of about 35 countries we export to.
How has the COVID-19 pandemic impacted your company?
During the COVID-19 crisis, we have been able to leverage certain distribution systems, which have helped our sales. For example, we had to deliver much more product to one of our U.K. customers, a wine club, this year in comparison with last year. This helped us to develop our sales into double digits, in spite of the lockdown. Our export sales are not mainly hotel, restaurant and café (HORECA) sales, we are represented more in the off-trade sector of the business.
On 16 March, Hungary went into lockdown. The next two weeks were critical for wine sellers as non-essential products. We decided that the most important thing for us was to keep the work places functioning and keep all our employees. The fact that we belong to a large international group and that we have a large export market has helped us through this crisis. We could pull in a lot of orders, in the middle and later part of the year, from our various partners within our international group. We could keep our level of production. In the domestic market, sales of still wine have recovered more and more, whereas sparkling wine sales suffered a bit more. The measures taken by the Hungarian government in cutting taxes have also been of help to us and given us oxygen to survive these difficult few months. In the summer, the situation normalized again and HORECA came back to the 50-60 percent level. But we knew the second wave would come. Now it is here, it remains to be seen how we will perform through it.
As a group, Törley has achieved international success not only through its outstanding products, but also through its creative marketing, its colorful posters, waiter's bills and branded goodies. What is your strategy when it comes to international marketing and branding?
Marketing is very important nowadays. Of course, production is important and if someone has money they can produce sparkling wine, that's possible. Yet not everybody has the expertise that our group has and not everybody can produce advanced and sparkling wines like Törley, Hungaria or BB. We need to keep our marketing key performance indicators (KPIs), our market awareness and our heritage. Our brands are our most important assets, both in the domestic and international markets.
Recently, we have engaged in a new project to relaunch the Törley brand in mid-2021, with new packaging and a new communication strategy. It's important that these developments are done not only for the domestic market, but take into account all countries where we are present. Our communication has to be harmonized for our brands across markets and the messages have to be understood across all geographies.
Hungary is a small country at the end of the day and there are a lot of players around the world in the wine industry, so it's not easy for a Hungarian brand like Törley to raise brand awareness on the global market, even with its huge 140-year heritage. But, for example, we were the only Hungarian company in the early 1990s to do TV advertising in Estonia. In this market, we have been present in the mind of Estonians for decades.
As we close the heavy chapter of 2020 and eagerly look forward to opening a new page in 2021, how would you summarize you main priorities and ambitions for the group?
We are always thinking in the long term. The number one goal for us in the future is to keep our brand and all our KPIs at the levels they are now or higher. We hope in the short term that COVID-19 will soon turn into a bad memory. We now have to act on the domestic and global markets based on our strategies. In the Hungarian market, the current trends will continue and we need to provide answers to our consumers—including increasingly providing them with dry wines, as well as vegan and organic products, free from harmful chemicals. Törley has to be open and continue to bring innovations to the market.
Regarding our social responsibility, we want to continue promoting a responsible drinking approach, which is very important for us. We also want to protect the environment, beginning with grapes. We invest a lot of energy into decreasing our carbon footprint. For example, we recently changed the paper inside our boxes for recycled paper. We decided to also change the outside of our boxes, as we realized that we could save a lot of water consumption for Hungarian families with just that small change. From this point of view, we bear a high social responsibility.
We also have to improve our technologies—the wine-producing and bottling technologies—we have to invest in our robotization and digitalization. As a company, we need to generate profits, which in turn enable us to make these investments. Törley is the largest wine-producing company in Hungary, with about 900 hectares of vineyards. A few years ago, we started a full replanting program, in part with European Union subsidy systems, through which we have replanted 200 hectares of vineyards already in our country. We'll continue this replantation program over the next few years because we see it as our future, as we are planting these vineyards for the next 30 years. It's a long-term investment. We are also taking this opportunity to use environment-friendly equipment, with less spraying and more respect for the ecosystem, for example.
What would be your final message for the readers of Newsweek?
Joseph Törley is still the most important figure in our lives and in our group. Joseph Törley was a great wine and sparkling-wine producer, he was a great technological expert and he was a great marketing expert—even if he was working back in the 19th century when the word marketing hadn't been invented, he was still a great marketing person. He also had a strong sense of responsibility toward the environment and the families working for him. For us, it is very important to not forget this man. Whenever we have important decisions to make, we always think about what he would have done and this gives us our answer. Joseph Törley's motto was "quality and tradition" and we have always stuck to that. And this will guide our future as well.