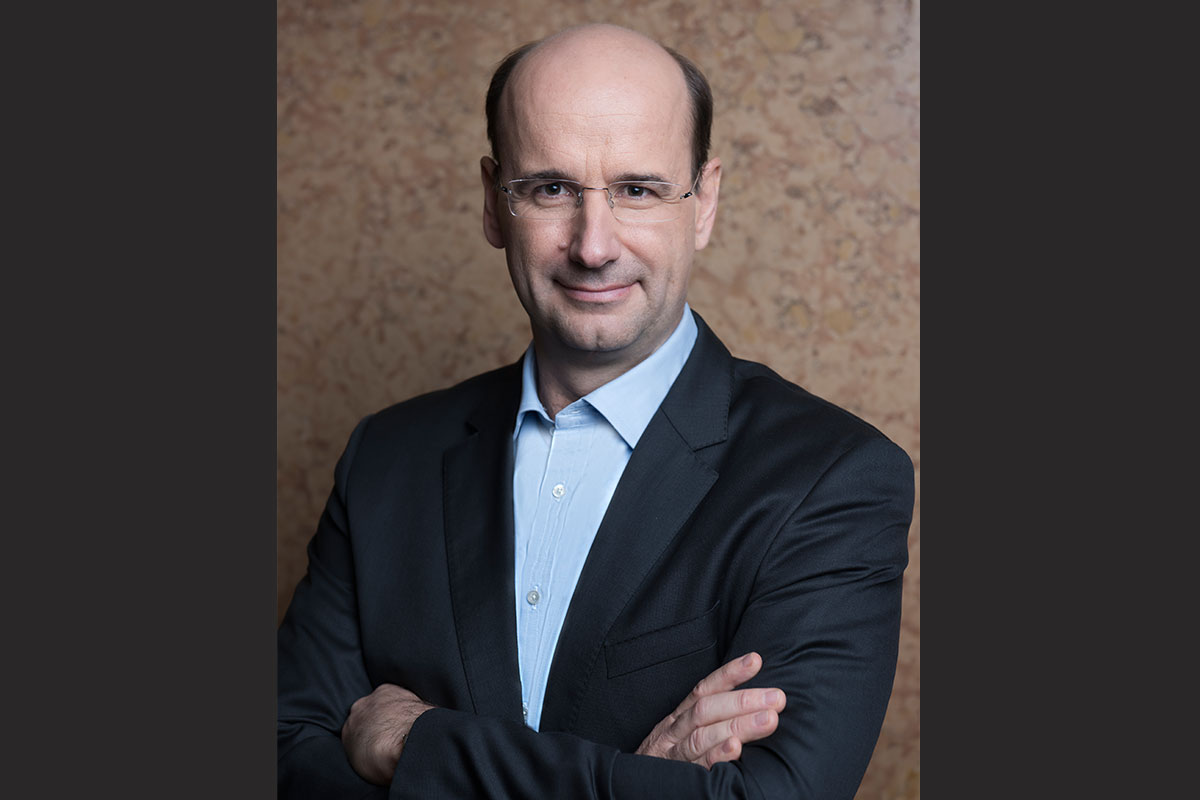 23 Oct

Providing unique solutions to millions of clients
László Bencsik, Deputy CEO, OTP Group, demonstrates some of the current and future steps for the Hungarian banking sector's champion
What is your analysis of the country's banking performance and resilience at the moment? Do banks have what it takes to resist the current crisis and its lasting consequences?
The banking sector is in very strong shape. That is in line with the macro situation of the country. Hungary has been doing extremely well lately, all indicators were green, which was also reflected in the good credit ratings of the country. The banking sector is very well capitalized, the capital adequacy ratio for the whole banking sector is around 20 percent. The sector is very liquid and the loan-to-deposit ratio is 75 percent. Deposits far exceed loans so that the banking sector does not require funding. The NPL ratios are quite low as well, well below 5 percent.
The whole industry has invested strongly in digital transformation and innovation, which are also two key strategic driving factors for OTP Group. In March 2020, we implemented an instant payment system, allowing all electronic transfers below EUR 3,000 to be completed in less than five seconds. This is a truly singular achievement and I could not name many banking sectors that meet this level of sophistication.
The sector is well capitalized, liquid and fairly advanced in terms of both service level and performance. We do not have concentrated risks in the portfolios, which is a huge difference compared to 2008 when the Hungarian banking sector was heavily affected by the presence of Swiss franc loans. This is over now: all retail loans are in local currency, and individuals are only able to borrow in local currency. The penetration ratios are relatively low. If you look for instance at the housing loans-to-GDP ratio, in the case of Hungary it is 8 percent, which is extremely low even in Central European terms. In Slovakia, for example it is much higher at 30 percent. That means two things: the inherent risk in the portfolio is low, and that there is a lot of room for growth and development in the future.
The banking sector is very stable which enables the banking players to help to tackle the economic problems that we are facing at the moment. First of all, high liquidity levels and capital reserves allow us to continue lending . That is true for OTP and other banks in the sector, and explains the double digit lending growth we saw this year, in spite of the COVID-19 pandemic. The banking sector is very active in channelling the policy measures to the real economy. The Central Bank and the government are fairly proactive coming up with new policies to address the situation. One of the most remarkable tools deployed is the 'Lending for Growth Go' scheme which is basically funding coming from the central bank provided through the banking sector to SMEs. The total amount was recently increased to EUR 7 billion which is more than 5 percent of GDP. The central bank also has an asset purchase program to buy mortgage bonds and government securities. There is a long-established housing program where the banking sector transmits subsidies both directly and in the form of subsidized loans to individuals.
OTP Bank Group is one of the largest independent financial groups in Central and Eastern Europe with a range of retail and corporate banking services. It is Hungary's largest bank, and a heavy weight as well in the local stock market. It ranks among Europe's most profitable lenders with its growing bottom line of more than EUR 1 billion. The group is present in 11 countries and is also active in insurance, real estate, leasing and asset management, investment and pension funds. Can you give us a rapid tour of OTP? What are the distinct differentiating factors, product and services that make OTP stand out in Hungary?
In the last four year we acquired eight banks. We are unique in the sense that OTP Group is the only regional banking group where the parent company comes from the region itself, Central and Eastern Europe. Typically our other regional competitors are Western European banks that have a presence in the region. OTP started as a saving bank developing into a Hungarian financial group and, from its origins in Hungary, has grown into a regional player in 11 countries, serving almost 20 million clients. 100 percent of our focus is towards this region, this is our home market.
Our headquarters are in Budapest. We have a strong retail banking background, even if we have also become quite strong in corporate banking. We are a multi-channel bank and we very much emphasize the importance of providing outstanding service across different channels, including the physical channel, but increasingly on digital banking channels. We provide multi-channel access to our customers, letting them choose the best way to handle their banking needs. Another unique feature of OTP has been our recent growth trajectory: we doubled the size of the bank's loan book during the last four years. We achieved this partially through very strong organic growth – in the last three years before COVID-19 hit us, we had demonstrated double-digit growth of 15 percent year-on-year organically – and on top of that we made these acquisitions. This was a uniquely executed strategy, because we made these acquisitions at a time when the other big European banking groups active in the region haven't done much. I believe that OTP has accumulated substantial skills and knowledge on how to manage these acquisitions, so we are becoming increasingly skilled and efficient at merging and integrating new entities within the group. On top of that, part of these integrations happened right in the middle of the COVID-19 crisis. We completed our merger in Bulgaria at the end of April, right during the total lockdown. We were able to execute this merger without problems, even under these exceptional and difficult circumstances.
OTP is a market leader in Hungary, by far. In addition, we are first in Bulgaria following this recently completed merger. We are also the first player in Montenegro, second in Serbia and third in Slovenia. So we are among the top banks in several countries in the region.
What sorts of synergies have you created between the various assets of the group? How are you leveraging all these various entities within the group?
We optimize risk management, financial management, liquidity management and control functions at Group level. But we have fully-fledged banking operations in each country. In the last couple of years, we have started to harmonize our IT platforms across the Group. Because we have been growing through acquisitions we have quite different IT systems in each country; but we have started to work on unifying the systems, at least the parts that provide synergies and where we see potential gains and benefits – typically digital banking applications, CRM, sales and decision support systems, etc. We are on that journey. Having said that, commercial banking is still a local business, and you need to have operations to serve the needs of the clients.
The group had a series of acquisitions in the region, with no less than 6 transactions last year. What is your strategy regionally, can we expect some further moves and consolidation by OTP bank in the region next year? Which markets are most appealing for you at present?
Acquisitions are central building stones of OTP's strategy and will remain part of our strategy for the future, as well. We are in growth mode, and we believe that when it comes to universal banking and retail banking operations, the bigger the better. In an ideal world we should be the biggest bank in each country where we operate, except probably Russia and Ukraine which are different markets. We want to be one of the consolidators in these markets. We believe that it becomes increasingly necessary to consolidate since we operate in a low rate environment where banking margins are typically thin. Consolidation and mergers offer the most obvious way to create value and improve efficiencies in these environments. I believe domestic mergers will be one of the key features of the banking industry, not only in Eastern Europe but also in Western Europe.
OTP Group has achieved a rare alignment of stability, growth and profitability, that is unique not only amongst banks but for large corporations in any industry. This provides a great basis for further acquisitions, safety and massive innovation potential to serve our clients, security for our employees and prospect for our shareholders.
2020 has marked a big turning point and acceleration in regards to the sector's digitalisation, namely with the launch of the instant payment system back in March. OTP is not a stranger to innovation and digitalisation since it launched its Digital Transformation Programme in 2015, also introducing first ApplePay payments in 2019. What are some of the most noticeable progress and achievements that you have seen on the market place, and how is a bank like OTP pushing the digitalisation agenda? What are some of your key projects, priorities and focus areas in that regard?
OTP embarked on a broad-scale digital transformation program five years ago, so this is not something new for us. In fact if you look back at the last 25 years of the history of OTP in Hungary, the bank has always been at the forefront of banking innovation, especially with retail clients. This is something we have always been doing. Implementing the instant payment system has been a big development step for us, introducing that on the level of the whole sector was a major transformation and it took a real effort to accomplish it in one step by a tight deadline.
We have a very long list of new initiatives. For example, we are about to launch a completely new internet and mobile banking platform which is in the final testing phase. We always try to be innovative in our services, but also in the way we work. We launched an agile transformation program three years ago, so that the retail business development activities within the headquarters in Hungary are done in an agile organization environment. Our business people are combined with our IT development colleagues, and that results in a much faster and more efficient development and innovation process.
We started to use robotics and automation internally, to try to digitalize the more repetitive and labour-intensive activities. We are quite active on the Fintech front as well: we have a dedicated digital fund and digital portfolio which is a venture capital, private equity investment fund. We cooperate with tech start-ups. We have a financial innovation lab which was praised by Global Finance twice as one of the best of its kind. We also have our own fintech company that developed a very innovative brand called Simple which is a mobile application that already has 1.2 million users in Hungary. Cardholders of any bank can do many things that require payment on that platform: pay for your parking, order food, buy public transport tickets, cinema and theatre tickets. We launched it a couple of years ago, and it has been the most successful mobile app by far of its kind in Hungary.
At the same time we continue to develop our physical channels as well. We still think that branches are key physical channels to provide sophisticated tailored service to our customers, even though the role of branches is changing. Simple transactions are moving increasingly to the digital space, and so branches have become a much more complex environment, focused on sales and financial advice to customer. We continue to invest in the physical channels as well, making our branches more customer friendly.
What about sustainable finance, do you think any substantial progress has been made in that regard? Do you see a move towards more responsible banking practices?
This is more and more important and certainly it is one of the focuses of our activities. We have set up a big dedicated program and strategic initiative to address it within the group. This initiative focuses on all aspects of the ESG transformation, including the business aspect and the policy aspect. In terms of green lending, there is a program by the National Bank to boost green mortgage lending, by providing lower capital requirements, and we also expect more subsidized green funding and green programs to be started by the EU. We are getting ready for those. We also work together with ESG rating agencies and to try and improve our ratings.
The Government of Hungary launched several stimulus packages and other incentives to help keep businesses afloat during the COVID-19 crisis. Today new hope has appeared on the horizon with vaccines and hopefully next year will be a different story, even if the Central Bank project only modest growth for 2020. What have been major lessons learnt at your level, and to what extend has this crisis provided also an opportunity for OTP to accelerate some transitions, the shift to digital banking for instance?
The COVID-19 situation has accelerated the usage of digital services by clients. The number of digital transactions increased, accelerating digital adaptation. We leapfrogged several years in terms of digital development, as a result of clients' expectations and their demands primarily. This will have a lasting effect. I doubt we will go back to the levels where we started from.
From the bank's point of view, the challenge has been that we had to work in a very different environment. Most of the people in our headquarters today are still working from home. A banking operation is a very complex IT and human interaction, so I think it was a very positive experience for all of us that everyone managed to successfully address this challenge in a few weeks. We had to change very quickly from one modus operandi to another. We had to maintain service levels to give our customers a seamless experience, and at the same time change the way we work together. This worked very well and I am very proud of our colleagues. We managed to maintain very high standards and service quality. This is something that had never been tested before. We also introduced many new policies and protection features, especially in the branches to protect our employees and our clients.
Going forward, what will be key in your opinion to speed up the recovery and have Hungary return to pre-crisis levels of growth?
It will happen at some point. This crisis is very unusual: this is not an economic crisis nor a financial crisis, but it is an external crisis brought in by external factors. As soon as the COVID-19 virus retracts, the economy will start booming. We have witnessed a strong decline of economic activity and GDP in the second quarter everywhere, but in the third quarter when the pandemic was more under control, we saw an immediate strong rebound in the economy. It proves that this is really an external problem to the economy. Once the virus problem is solved, economies will start to grow fast again. We truly hope that vaccines will be widely available across Europe in the first or second quarter next year and thus the COVID-19 problem will start to go away.
As we are closing the big 2020 chapter and starting a fresh new year with a blank sheet, how would you summarize your plans and priorities for 2021, post-crisis, and for the longer-term, to take OTP Group to the next level? What would you like to accomplish most for the group?
We want to grow both organically and through acquisitions. We aim to increase our market share in the countries where we are present. Digital development and innovation are equally key for us, just as important as growth, because those are long-term success factors for our Group. Once the COVID-19 situation is over, the loan demand will increase again. We want to be there to service that demand and fulfil that demand. We expect an accelerated growth in 2021, not just in the outside environment and in the economy, but also in terms of our business activities. We would like to use that environment and these opportunities to increase our market share in the countries where we are already present.
What is your final and direct message to our audience?
I am convinced that Central-Eastern Europe is one of the most dynamic, fast-growing, yet stable regions – probably in the whole world. We invest all our energy and capital in this region. Going forward, we have very positive expectations for the next decade.