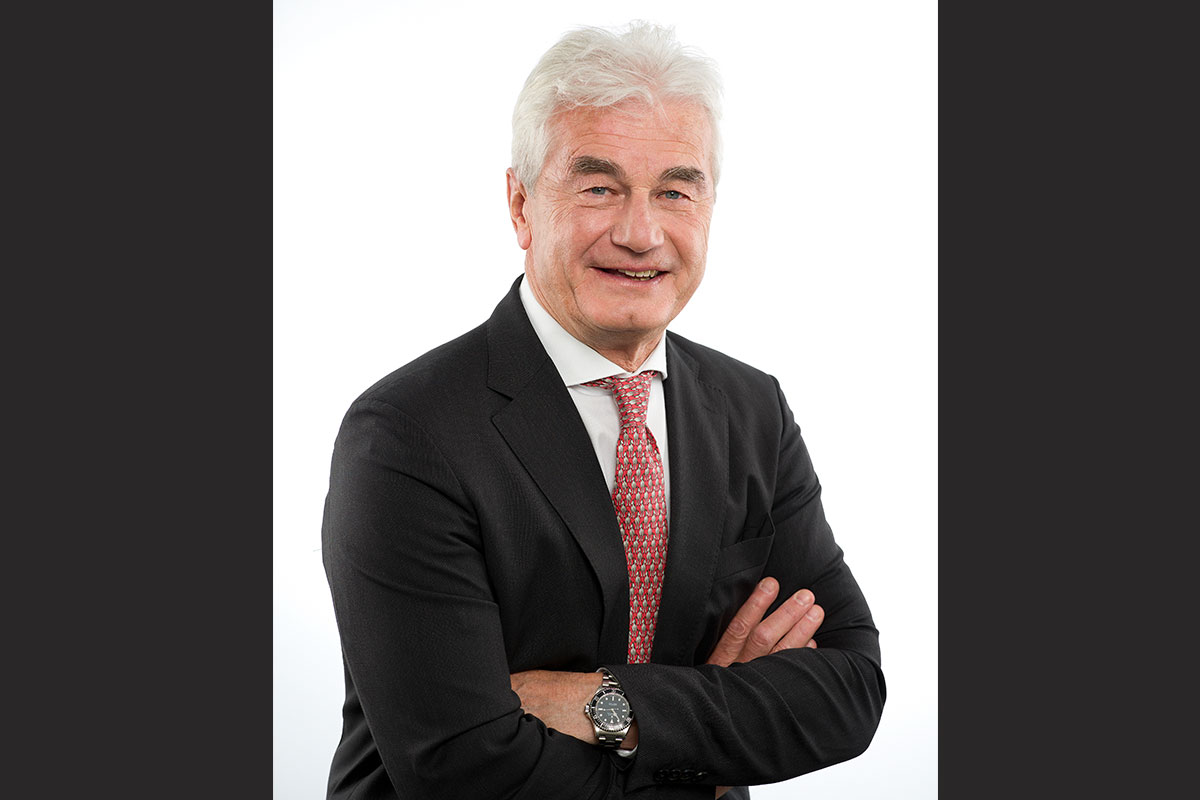 29 Oct

International investors continue to put their trust in Hungary
Dr. András Szecskay, Founder and Managing Partner, Szecskay Attorneys At Law, makes plain why Hungary remains an extremely popular and in-demand investment destination
Szecskay Attorneys At Law is one of the leading business law firms in Hungary. Can you tell us something about your practice and how it stands out from others?
Szecskay Attorneys at Law is focused on rendering high-quality legal services and this pays back well because it has brought a high reputation to our firm. We are extremely sensitive when selecting our lawyers, so we engage only those who are able and ready to render the highest-quality legal services. We are in a fierce competition with our international peers, with global firms, but we are still within the top 5-10 leading law firms in Hungary. We are probably the biggest independent firm, so we are on both sides of the table with our international peers that have much higher resources, both human and financial.
We are proud of having played a leading role in the Hungarian privatization process in the 90s, and also of advising foreign investors, and representing them in Hungary. The firm was established almost 30 years ago and we still maintain a very traditional operating concept, where we educate and train our own lawyers. They join the firm first as a graduate and we train them. If they perform well, they stay with the firm and they develop to become a partner in the firm. This helps to build cohesion and loyalty toward each other, regardless of weekend or longer working hours.
The firm is part of a number of European and worldwide organizations and networks. We are extremely active in the three leading lawyers' organizations. We closely monitor the development of the legal tech industry on one hand and, on the other hand, we push to use online processes. This is because, in addition to transaction work, we are very strong in the fields of administrative procedures and litigation, which include more and more online process handling as part of our daily legal work, since more and more filings can only take place online. Of course, that is very helpful for the legal industry, including us, as the involvement of legal intermediaries in online filings for authentication and professional process handling had become a key factor in gaining access to licenses and justice.
Hungary has long capitalized on its strategic geographical location and excellent infrastructure to position itself as the European Union's (EU's) manufacturing, services and logistics hub. The country's ready-made industrial sites, offices and science parks combined with a good balance of labor costs and quality make it an ideal spot for expanding firms willing to tap into the European market. To start this interview, could you tell us how easy it is to do business in Hungary?
Traditionally, Hungary is a warm-hearted, open-minded country. Hungarian people like foreigners as well as foreign investors. After the political and economic changes in the late 80s and early 90s, Hungary became a market economy with a lot of foreign investments, so I would characterize the 90s as the main period for the privatization of the state-owned economy, which continued even after the turn of the century into the beginning of the 2000s. Then Hungary switched to more sophisticated types of investments, greenfield projects and acquisitions of existing operations, business entities and so on. So, we are and always have been in fierce competition with our peers from the Visegrád group (V4): Czechia, Slovakia and Poland. The places are changing, but I believe that Hungary still remains a very popular and very in-demand destination for foreign investors, both from within the EU member states and from outside the EU, that is overseas investors from the U.S., Canada and also from the Far East.
This was represented in the World Bank's 2020 Doing Business report covering the high-income region of the Organisation for Economic Co-operation and Development (OECD). This provides objective measures of business regulations and their enforcement across 190 economies and selected cities at the subnational and regional level. Out of 190 countries looked at, Hungary ranks 52 in the overall ease ranking which, after a little drop, is an improvement again. From all the indicators, it may be useful to mention that courts as well as administrative authorities, including customs and tax, can now be accessed fully digitally and remotely, and in general policy makers are devoted to the digital economy.
How do you rate Hungary's fiscal attractiveness when compared to its peers in Europe? In other words, why should an investor invest in Hungary rather than in Czechia or Austria, for instance?
The taxation scheme is very attractive in Hungary. At 9 percent, the corporate income tax rate is probably the lowest within OECD member states and definitely the lowest within EU member states. In addition, there are other measures implemented by the government to subsidize and incentivize investment, mainly highly sophisticated investments that promote research and development (R&D). Subsidies are available to stimulate investment, especially in the manufacturing field, green industries, real estate or anything pertaining to innovation. The best thing that an investor can do is to contact the firms dealing with foreign investors or to directly contact the Hungarian Investment Promotion Agency, HIPA, which collates and makes available all relevant investment data. Apart from sophisticated banking systems and the supply of finance products, Hungary has improved access to credit information by offering commercial credit scores, the registration of mortgages and pledges is fast and can be carried out remotely, and insolvency rules also improve from year to year, helping businesses to recover and protecting financing parties.
Hungary has the reputation of being a cheap and competitive labor market, although there is some pressure on the job market now with labor shortages currently a key issue. What should investors coming to Hungary know about the country's labor market?
The labor market is a very important factor, and investors need to take into consideration what workforce will be available and in which parts of the country. It differs, and we have to distinguish between Budapest and the rest of the country. There is a big centralization and concentration in Budapest and there is no problem finding an accessible workforce if you are investing in that city. Likewise, there is no problem locating a labor force outside of Budapest toward Austria, because it's a more industrialized and populated countryside. However, you may face difficulties in the eastern part of Hungary. Investors should look at the available workforce first and then make a decision. Some big cities in the east like Debrecen and Kecskemét have good workforce sources and many investors select these cities, because they additionally have a good highway connection and are easily accessible cities. BMW, for example, recently decided to create a manufacturing plant in Debrecen. This was a major investment and is now fully operational. A second plant will be created by Daimler Benz as well.
Regarding the quality of the workforce, Hungary offers a skilled labor force. The education in Hungary is traditionally good, which is both good and bad: employers have access to a qualified workforce, however these educated skilled workers find Western Europe a more attractive workplace and this has been a problem for Hungary in the past 6-7 years. Many workers fled to Western Europe—to Austria, Germany and other EU member countries—simply because their qualifications are sufficient and the salaries are much more attractive in these countries. That also means that the workforce is relatively less expensive—I wouldn't say cheap—than in Western Europe. The number of Hungarians working abroad is around 600,000-700,000 people, which is a substantial proportion of the working population. They are not only young people and students or elderly, retired people, but part of society that is still able and expected to work, and it represents a significant portion of society. The question is whether they will return or just stay in Austria, Germany, the U.K., or wherever they are. Overall, employment rules are quite flexible in Hungary in terms of enabling employers to plan their corporate and financial restructuring moves or expansion in Hungary. Working time and the remote working policy of the employer can also be planned in a fashion that creates an attractive workplace.
How dynamic is the Hungarian market for mergers and acquisitions (M&As) and what trends are you seeing in that area?
After the 2008 financial crisis, we saw an increase in M&A activities. We saw it in our daily work as we assist clients in making acquisitions, and advise and represent parties in the various transactions. There is a definite increase in the number and also the magnitude of transactions. In 2019, four of the five biggest investments here were made by Hungarians: Indotek group made two major acquisitions; MOL, the Hungarian oil company, also made a major acquisition; and in the telecom business, Antenna Hungária, the broadcasting system company, was the biggest transaction of 2019 with its acquisition of 25 percent of Telenor. There was also a German acquisition in the energy sector, related to EON, which is present also in many other European countries.
So, there is a definite increase, particularly on the front of innovative, IT and medical industry businesses, as well as agricultural and retail logistics businesses—and I'm not speaking only about the biggest transactions, because I think for a healthy economy not just the big transactions matter, but also the medium-sized and small-scale transactions too. These keep the economy alive. We see both, so the economy is in an active state. The number of transactions has increased, though there was of course a—hopefully temporary —decline due to the spread of COVID-19.
In line with all other indicators, real estate prices were on the rise in Hungary last year. How does a firm like Szecskay Attorneys At Law evaluate the potential, risks and opportunities that exist in Hungarian real estate?
The real estate market is large and we need to distinguish between residential, retail, industrial real estate, commercial real estate, hotels and restaurants, and office space. In general in 2019, there was an increase: the prices went up and the market was extremely active, probably due to two factors. One is the construction industry, which was very successful, very active and enjoyed high prices. The market was very lucrative for developers, they offered residential properties for high prices we had never heard of before, but they found buyers. People liked it because these were newly erected buildings, with contemporary designs, well equipped and located in convenient residential areas. Instead of keeping money in bank accounts, where the interest rate is very low, people preferred to invest in these properties.
Another reason why the market expanded was because of the flourishing Airbnb market, which was extremely successful and popular in Hungary. Now, there are complaints from neighbors and from people who are not benefiting from the Airbnb scheme. Yet investors inside and outside Hungary found it very lucrative and very popular. Budapest is one of the main targets of European tourism, there are a lot of tourists in Hungary and it was very easy to rent out your Airbnb. Now how it will continue is a big question mark, as this year tourism has dramatically reduced. Also, there may be protective measures implemented, either by the government or by the local municipality. So there's a question mark, but it's still a popular kind of investment.
If we look at hotel and restaurants, they were profitable and good investments. The question mark comes after this pandemic period, as restaurants were and will be closed for a longer period of time and it's very uncertain how attractive these investments will be in the future. Industrial investment still looks good. There are a number of industrial parks all around the country, which are popular and reasonably priced. Often investors prefer to have a base in manufacturing plant and industrial parks, because they are equipped and enjoy the support of the local municipality and so on. Since the manufacturing industry is not affected by the pandemic as much as other services and tourism, industrial parks still remain a good investment in Hungary.
As for the office real estate business, this again is a question mark. The sector was going well, it was popular and lucrative, but after this year, probably many employers have realized that half of their employees can work from home. As home offices became an accepted way of working, employers will probably need less workspace and so they are likely to rent or lease less office space. A company that employed several hundred employees offering office space to every employee can reduce that to half or less. This is again a question mark: to what extent will the home-office style of rendering work remain? Will employers return to the ordinary way of working? The practicality is that you do the same work, but you may not be available all the time, you may not be visible, you don't have the comfort of discussing things with others or having a daily chat and exchanging information. So it's a two-fold issue. From the other side, it's much more convenient: you don't need to commute, you stay at home in comfortable surroundings and your employer doesn't need to grant you office space, for instance. In any event, the aforementioned OECD report mentions Hungary as a very attractive location in terms of real estate transaction costs, development time and procedures, as well as administrative operational costs and administration quality.
Do you think new opportunities or sectors of innovation will emerge after this crisis?
It was always the preference of the government to support and subsidize high added-value industries. I think this is something I don't see substantially decreasing in the future, because there will always be a place for high added-value and sophisticated work. More traditional works, operations and businesses may very well decline. I'm sure that there will be a dramatic decline in certain sectors, like tourism, hotel, catering and restaurant businesses. In other words, sectors that do not require a personal presence may or will probably improve, while on the contrary side, those that require a personal presence may decline dramatically. The factor that gives hope for new opportunities and innovation is that the government is actually pushing businesses with various subsidies and programs to innovate and digitalize their processes to be able to remain competitive with international businesses and be able to expand into the world market. In fact, the only positive effect of COVID-19 is that the need for remote work has accelerated this process. Even in the field of traditional businesses, COVID-19 may boost innovation and the spread of using more robotics in manufacturing processes.
As a conclusion to this interview, what would be your final message to our audience?
You might hear a lot about Hungary, such as blame being put on the Hungarian government or prime minister for the violation of the rule of law and all kind of things. You should always distinguish between the government, the country and the population of Hungary—and keep trusting in Hungary.