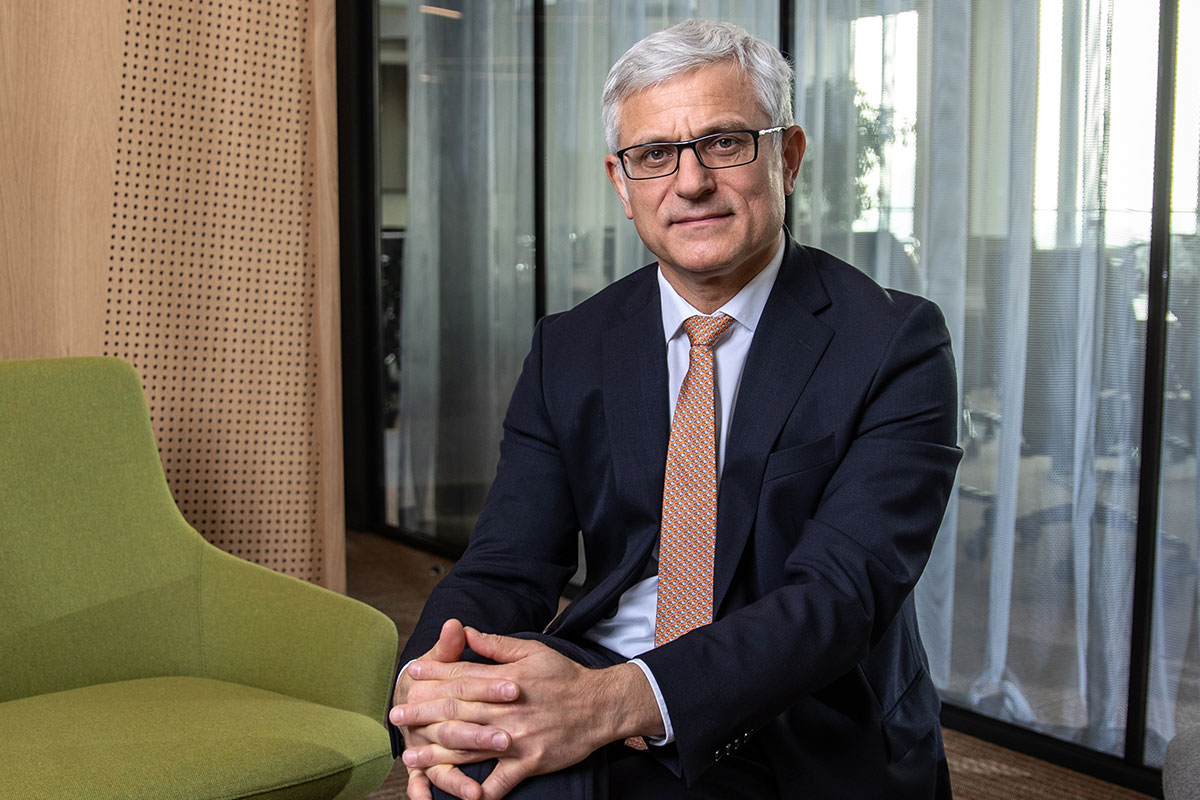 05 Nov

Hungary's banks take a proactive role in jumpstarting the economy
Radován Jelasity, President, Hungarian Banking Association, describes how a strong banking sector is supporting the country through the pandemic
As an expert banker, former central bank governor and a leader with a profound understanding of Central and Eastern European (CEE) dynamics, banking and economies, how would you assess the health and performance of the banking industry in Hungary prior to the COVID-19 crisis?
In 2020, when the coronavirus pandemic broke out, the prevailing situation in the Hungarian banking sector was fundamentally different to how it had been in 2008. For example, the loan-to-deposit ratio in 2008 was 152 percent, which means that roughly half of the loans in Hungary were financed by transfers from abroad. By 2019, this ratio had already improved to 75 percent. The stock of FX-denominated retail loans, including Swiss franc loans, had also vanished by then and, in addition, the majority of mortgage loans are extended at a fixed rate, not at variable rate anymore. The non-performing loan rates are low single digits and well provisioned.
Banks have a very high capital-adequacy ratio, which is further strengthened by the fact that they saw profit in 2019 but dividends were not paid out, meaning that those dividends are strengthening the banking sector's capital-adequacy ratio even more. Last but not least, the ownership structure improved further in Hungary. The ones who survived 2008 have proved that they are fully committed to Hungary and ready to support the banking sector further with additional capital, if needed.
What is your assessment of the current economic situation in Hungary and how has it been affected by the COVID-19 crisis?
2020 is really different in comparison to previous periods and crises in the financial sector. We are suffering the same way as everybody else is. This is now not another economic crisis per se, but a health crisis that has turned, among other things, into an economic one. Every day we are all trying to find a balance between health and economic challenges. Targets are constantly moving: in the March-April period, Europe—for good reasons—basically stopped its whole economy. But now everybody has realized that life must go on and we cannot repeat that again.
The macroeconomic foundations are quite stable in Hungary, as we had robust economic growth over the last seven to eight years. Last year, we achieved just about 5 percent growth in gross domestic product (GDP), which was the second largest GDP increase within the European Union (EU). We have also seen decreasing government debt during the last 10 years to go from above 80 percent down to 66 percent in 2019. In the same period, our budget deficit was constantly below 3 percent—last year it was below 2 percent. Last but not least in 2019, we had a record high level of foreign direct investment that amounted to approximately of 4 percent of GDP.
Of course, the Hungarian economy is suffering from the effects of the pandemic like any other, especially in the area of tourism and hospitality. These two industries are very much concentrated in Budapest, since more than 90 percent of the overnight stays in the capital were previously made by foreigners, and international tourism dropped markedly due to travel restrictions and uncertainties related to traveling. Unfortunately, COVID-19 has strengthened a "me-first" attitude in several countries, including closing down borders as a first reaction. But more than ever, we are depending on each other as, for example, our car factories can only work if there is demand somewhere else in the world and our agricultural product surplus needs to reach customers outside Hungary in order to succeed.
With every challenge we face there is an opportunity as well and, therefore, we need to see to what extent this crisis can also be a chance for CEE countries. Until now, the key function of economics in the production of goods was price only, namely: the cheaper, the better. But in this new world, we can hope that the European economy will rediscover additional opportunities offered in the CEE region such as its proximity, stability, favorable pricing and so on. I think this is a chance for Hungary to excel further, even during the coronavirus challenge.
Shortly after becoming the president of the sector's advocate, the Hungarian Banking Association, you said, "Hungary can avoid a crisis similar to the one in 2008 thanks to measures taken by the government and the National Bank of Hungary (NBH), as well as the country's stable banking sector." What have been the lessons learned from the 2008 crisis and are banks in Europe better prepared this time?
Starting from 2008, many new regulations came into operation and we were all forced by these requirements to have a lot of additional extra capital buffers. In addition to that, we even got a new regulator at the EU level—the European Central Bank (ECB). Many banks supervised by the ECB are also active in Hungary, as their headquarters are in the European Monetary Union.
Of course, I cannot avoid complaining about the negative interest rates in the eurozone, which is really challenging for banks, especially in the long term as the temporary measures obviously became the new normal. Banks are more in need than ever, especially during these tough times when they should support their clients in order to meet their challenges.
Hungarian Prime Minister Viktor Orbán said recently that "Hungarian businesses haven't weakened, but have been strengthened." Do you agree with that and, if so, what role has the banking sector played in that strengthening?
The Hungarian Government and our central bank are supporting the local economy with a lot of well targeted and specific measures by providing cheap refinancing and various guarantee schemes to the banking sector. The government also implemented a nine-month overall payment moratorium starting from March this year that covers all clients, involves all of their payments, with no interest capitalization and mandatory participation with an opt-out option for those that would like to continue their payments. With hindsight and taking into consideration the high uncertainty Hungary was facing that time, this was the right step.
In mid-October, our parliament approved another six-months' moratorium staring from January 2021, which is going to be more focused and not mandatory for corporate clients. By helping private individuals and companies, the government is taking a proactive role together with the banking sector. At the end of the day, the banking sector is the mirror of the economy and if the economy is weathering the crisis better and more efficiently, it's definitely going to have a positive impact on banks as well.
Innovation is a key priority for Hungary's government. How are banks in Hungary supporting innovation and the strong ambitions the government has in this area?
There are many innovative ways in which the Hungarian banking sector is supporting its clients. For example, we implemented an instant payment system in Hungary, which basically means that 24 hours a day and seven days a week any transfer below €30,000 should reach the beneficiary within five seconds. This was pretty novel and something really innovative. The government also implemented so-called "baby loans", where every family that is expecting a child or wishing to have a child can get an interest free loan up to €30,000 that doesn't have to be repaid if the family is blessed with three or more children. A lot of these innovative schemes are here to support and stabilize the economy.
How important to the banking sector is the presence of U.S. or other foreign companies in Hungary? How close is the relationship between Hungarian banking institutions and U.S. financial institutions?
The U.S. is the largest non-EU investor in Hungary. There are 1,700 U.S. companies operating here that employ approximately 100,000 people. One of the first foreign banks that came to Hungary was actually Citibank in 1985. It's still highly active in corporate business but its retail business was bought by Erste Bank in 2016. Citibank was very important, not only because it has provided superior financial services, but also because it brought our whole financial sector to the next level. We learned about new services and technologies from Citibank—for example, it brought the first classic credit cards to Hungary—which have definitely contributed to the overall development of the local economy in the country.
You became the president of the Hungarian Banking Association in May 2020. Could you give our readers a snapshot of your priorities and goals in your new role?
I believe that, for the time being, banks' most important goal is to lend as much as they can and support their clients, while using the different government sponsored programs, in order to jumpstart the economy. Secondly, we also need to boost the digital banking services offered in our country. A lot of clients prefer to do banking from their home and the government is definitely supporting us in our digital transformation by translating all of these digital requirements into new legislative content to extend the digital banking capabilities of the financial sector. Thirdly, we are trying to improve our relationship with the government and central bank even further. Fourth, we need to advertise our latest achievements, such as the central bank lending schemes, the government loan schemes, including the baby loans and instant payment scheme, as well as our overall availability and performance during the times of coronavirus. Last but not least, we also want to reduce the sectoral taxes imposed on banks—but I think first of all, let's win the war against coronavirus and then we can talk about the rest.
What is your outlook for the post-COVID world?
I don't think we will return to the pre-COVID19 world. The way we live, the way we work, the way we are meeting friends, the way we are traveling and so on: everything has been hugely impacted. We are already thinking and preparing ourselves for the time when coronavirus is over, but definitely life will not be the same as it was before. It's certainly going to be different and who knows, maybe in some instances even better if I think about the benefits of the home office and remote working using the new communication channels.
What would be your final message for the readers of Newsweek?
It makes sense to be creative, it makes sense to be unorthodox sometimes and it makes sense to be a challenger of the current status sometimes. I think it's very important nowadays. You have to adapt fast and you have to be extremely agile at this point in time. What has worked up till now is definitely not good guidance for the future. The way forward is not looking into your rear view mirror!