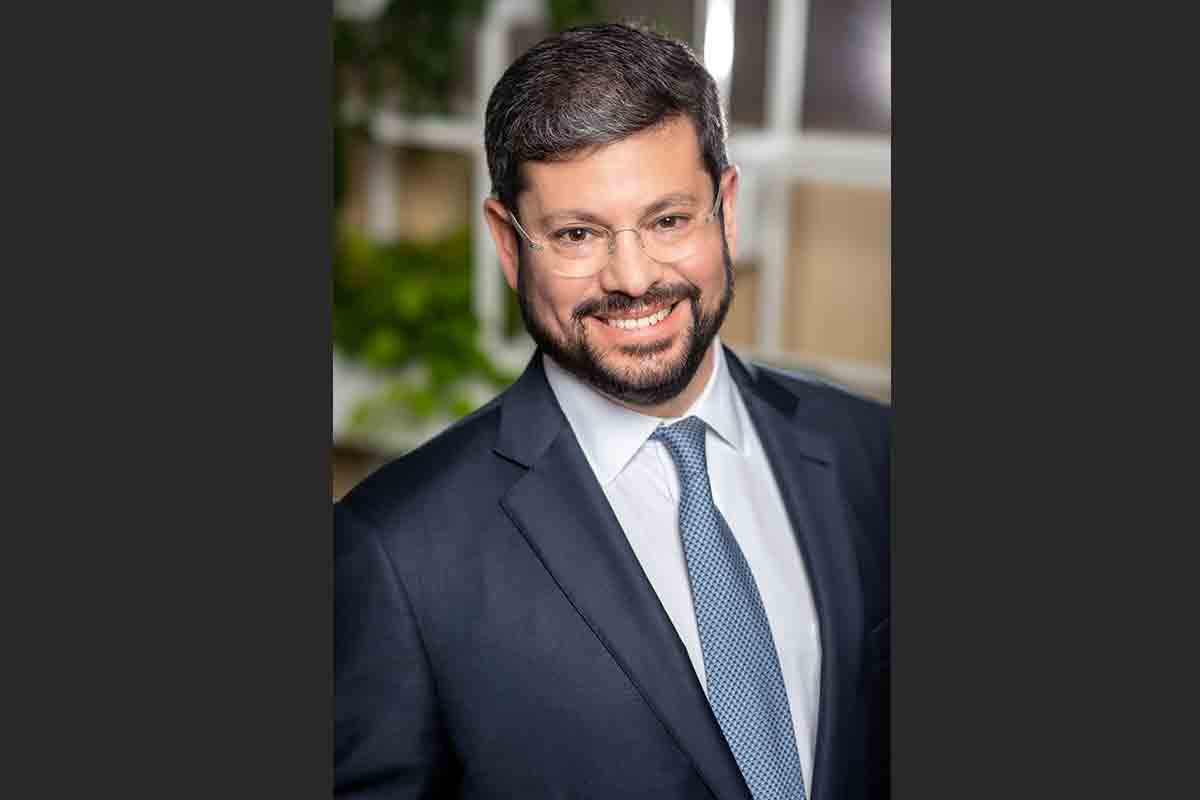 17 Oct

Creating green, liveable and inspiring spaces
Noah Steinberg, Chairman & CEO, WING, and Chairman, RICS Hungary, explains the forward-thinking approach that is embedded in all of the companies human-centred projects
Up until last year, Hungary was Europe's 2nd fastest growing economy behind Ireland, with 4.9 percent growth. The year has seen also record highs across a number of indicators, foreign direct investment, incoming visitors, etc. To start, can you give us your analysis of the local real estate market. As a highly regarded expert, could you share with us the trends, the most dynamic segments and the kind of appetite you have seen from investors up until now?
Pre-COVID-19, the Hungarian economy overall and the real estate market in specific were in healthy balance. The real estate market had dynamic growth and demand, driven by the country's economic growth and the supply corresponded to the demand. Those property companies which emerged from the financial crisis of 2008, were professional and sophisticated and they were able to put down strong foundations in the real estate markets going forward. Most remained prudent and they were strategically positioned to take advantage of the opportunities arising. 
Several trends emerged during that period, which can be considered very positive. One is that, because in former communist countries the construction of private sector infrastructure and modern buildings started much later, the buildings jumped a generation or two. The buildings that make up the bulk of the market today are exceptionally modern, many of them have already been built with climate sensitive and green technologies, they are efficient and they meet the needs of a modern digital economy. We have a planning regime which is sensitive to the historical and architectural heritage of the cities. Both monument protection and sustainable development are key criteria. Finally, over the last 10 years we saw the emergence of a domestic institutional investor base. Local investors became as sophisticated, professional and powerful as the investors coming from outside, and this provided a key source of liquidity for both foreign investors who have acquired properties here and for developers creating new buildings.
How would you rate the potential, but also the challenges, risks and opportunities for investors in Hungary? Why invest in Hungary? How does the region stand apart? How would you describe that environment?
Both pre and post COVID-19, our analysis concluded that compared to the more mature Western Europe markets like Germany or France, the CEE markets in general and Hungary in specific will perform 1 percent to 2 percent better. That is true for both GDP growth and for return on investment. Hungary remains an attractive investment destination within the context of the European Union from a legal, financial and accounting point of view. It also remains a higher growth destination for investors from all over the world with the security of a modern European country.
From a real estate perspective, what kind of difference do you see: is the rest of the country catching up on Budapest? What kind of regional opportunities and needs exist in smaller cities for investors? 
Similar to other European countries, the capital city of Budapest is the political, economic and cultural capital. What we see here from a commercial real estate point of view is that it is very much driven by the type of product. Shopping centres, for example, do well in regional cities and in Budapest equally. We have shopping centres in several cities and there is demand in every location. Residential buildings are also doing well, with demand for apartments in pretty much all regional cities and in Budapest. The same goes for industrial properties, particularly for those linked to large scale manufacturing centres. Hungary has attracted large-scale manufacturers such as Daimler (Mercedes), BMW , LEGO and others. All of these require the supporting functions of warehousing logistics and potentially of housing for the workers. Those in turn drive regional markets. The office market is more concentrated on the capital, which does not mean there are no opportunities in the regional cities, but they are more limited.
How would you evaluate the impact of COVID-19 on the construction industry? How has it attacked the growth in the sector and dealt a blow to the property market?  
The COVID-19 crisis has not impacted every segment in the same way. I believe that the response to COVID-19 has accelerated certain trends that were already present in the economy, such as the shift to online shopping for instance. E-commerce relies heavily on logistics and industrial buildings: you need to store, sort and deliver the products. So our industrial properties and the industrial market overall in Hungary have actually seen growth. The current vacancy in modern industrial buildings in Budapest and the surrounding areas is around 2 percent, which means that for practical purposes the buildings are full.
While the industrial sector has done well, other sectors, such as tourism, have been impacted very negatively, as have certain types of retail, particularly food and entertainment. The office markets remain reasonably healthy and the residential markets remain good. Overall, the implications remain very uneven.
That said, I think it is important to stress that this is not a permanent condition. Sooner or later there will be a recovery , even if that does not necessarily mean that things will return back to exactly how they were before because there will be some permanent changes. The real estate business tends to function with a 3 to 5 year time horizon, so seen from that context COVID-19 will hopefully be seen as a relatively short blip, which then went away. 
So do you think it's a good time? Would you advise to invest in Hungary now? 
It is always important to be careful and cautious in every investment environment. That being said, there are a lot of good opportunities and there are investments going on. There is a lot of active investor interest. It is obvious that some of the smart money thinks it is a very good time to be investing.
In addition to your role as Chairman of RICS you are also the top figure of a leading real estate developer and investor, WING, which is acclaimed as one of the best property companies in the region. WING has been present on the market for 21 years and boasts an impressive 1 million square meters of development. The group is active not only in development, but also in investment. Can you give us a little tour of WING, stressing your achievements and successes, your biggest realisations in Hungary and beyond?
WING is certainly one of the leading property companies in Hungary. Our two primary areas of activity are real estate investment and real estate development. We are the largest office developers in Hungary and we are active in every sector of the market: we also develop residential properties, hotels, shopping centres and industrial properties. We are also investors, so we own and manage a large portfolio of properties, some of which we have developed ourselves and held and some of which we have acquired in the market. We are also constantly buying and selling standing assets in addition to developing new properties.
Some of our landmark buildings are the Telecom Headquarters, which is the largest office building in Hungary with a gross area of 100,000 square meters and the East Gate Business Park, which is one of the largest and most modern industrial and logistics facilities in Budapest. We are in the process of completing a building for Evosoft, which is a Siemens subsidiary with a large R&D component. That building is adjacent to the Ericsson Headquarters which we handed over two years ago, also with a large R&D component. Both buildings are located next to the university campuses that deal with information technology. Among others we have also developed headquarters buildings for E.ON, Allianz and GE Oil & Gas, two shopping centres as well as a refurbished third one, MOM Park, a joint venture with a large American bank, and Hungary's first airport hotel. We have a variety of other different types of ongoing projects: we are completing multiple residential properties under our 'Living' brand. Our new flagship office project is the Liberty Office Building adjacent to Telekom Headquarters, and we are handing over Hungary's first B&B Hotel next year.
WING is also a bond issuer on the Hungarian Stock Exchange. We were the first property company to issue bonds and the most successful and the largest to do so. We have been on the stock market for almost five years and we are seen as a very reliable, very stable investment. We have a team of professionals in our organization who work to the highest standards, not only in the context of the Hungarian market, but in the wider European context. We strive to achieve global excellence and to follow global best practices, and our buildings are as modern, as green, and as energy efficient as buildings anywhere in Europe.
What kind of investors are you looking for? What international investors are you targeting? And what is your strategy when it comes to marketing and communication to raise awareness of your products and projects?
We have two different investment products and have two different types of targeted investors. On the one hand we have bonds issues by WING in Hungary, and on the other hand we are majority owners of a Polish company Echo Investment that is listed on the Warsaw Stock Exchange where its shares are traded. With our financial instruments, WING bonds, Echo shares and Echo bonds, we target institutional investors who are already present in Central Europe – insurance companies, banks, investment funds, either local or international who have a presence here and invest into these types of instruments. With our individual properties, we are targeting international institutional investors from all over the world looking for the value uplift that is present in these markets in a secure legal and financial environment. Hungary offers high growth within the EU, which is a key piece of the investment case that we can make to investors.
You mentioned your investment in Poland Echo, what is your strategy and your plans for expansion in the region? Can we expect more acquisitions from WING, do you have your eyes in other markets?
Our goal is to establish ourselves as a leading regional player, beginning with our Hungarian and Polish activities It is likely that we will look to expand our regional presence further, making a very strong case for a central European regional presence based in Hungary.
What else can you tell us about your company's vision for innovation? How is WING contributing to push new standards of construction, integrating also today's mega trends like sustainability, mobility and digitalisation, connectivity and green development?
One of the big shifts that has happened over the last 10 or so years is a focus on the people who actually use buildings. People either work in a space, live in a space, or go there for shopping and entertainment. We are trying to create spaces where people are comfortable, where they are healthy and where they are encouraged to collaborate. These are spaces where people meet each other, where there is interaction, where it is comfortable to sit and talk. One way in which we've seen a lot of innovation in recent years in what we do is in the way offices are built to not just accommodate but also encourage and inspire the people who work in them. We have taken a very similar approach to our residential projects. Our residential development subsidiary 'Living' has for instance put in place a package of services based on the sharing economy and on community within the building, and is the first in Hungary to do so. Access to car sharing, to package delivery, to a community living room with a library and other services are provided in the context of property management.
Another tremendous shift that has happened all over the world is towards green technology in buildings. We have tried to be at the forefront of this trend in the region. A great deal of power consumed in our society is consumed in. The more intelligent planning approach we have, the better for the environment. For instance, good shading reduces your need for air conditioning in the summer and heating in the winter. This does not cost very much if you think about it, plan it and do it well in advance. Using to the greatest degree possible recyclable materials, using rainwater for irrigation or grey water for toilet flushing for instance, are pieces that we now integrate into the planning and the way we approach our buildings. Our industrial buildings are very large and have flat roofs, so we can put solar panels on these rooftops, to be more sustainable.
When it comes to alliances and partnerships and cooperation, are you also looking for partners to continue to develop your own products and to expand to grow your company?
We always feel that if we can work with partners where each partner contributes value, then it is a good idea to do so. Partners tend to bring resources, financial and human capital, and most importantly, in all of the partnerships we have had we have learned a great deal from our partners. They may know more than we do, but it is also entirely possible they just know things differently than we do. So having a diversity of approaches and integrating different viewpoints into how you work tends to be beneficial for everybody involved.
As we are closing this year and opening a brand new chapter, hopefully with 2021, how would you summarize your priorities as head of WING? What would you like to achieve in the next 5 years?
First of all, we try to be a very prudent and a very long term focused organization. We were able to grow through the previous financial crisis and we will have a year of growth in spite of the challenges posed by COVID-19. My priority in the very short term is to make sure that everything that we are doing is stabilized and that the company remains healthy and profitable. By healthy I mean both from a business point of view and from a social point of view. We strive to be as protective as we can of our employees and to keep people physically healthy. We want to make sure that we can continue on our pace of sustainable growth primarily, but beyond that, we have a great deal of potential, which we see in our existing projects and the projects that we are beginning to prepare for now – in terms of development, investment, and in terms of the maturity of the Hungarian economy which offers us more and more opportunities.
At the end of the day we are very focused on providing buildings that meet the needs of the companies that use them, as well as the needs of the individuals who want to use them as homes or as shops or whatever else the function may be. From our point of view, we really approach our buildings as meeting the needs of people who are present in the spaces that we create.
As a long-time American businessman and investor in Hungary do you have maybe any anecdotes or any advice to share with readers about this country?
I have worked in Hungary for 30 years and I consider it my home, in many ways. It is an exceptionally pleasant place to live and work and it also continues to offer tremendous opportunities, due to the dynamism, both of the economy and of society. Hungary is a country, which has been transforming itself for three decades, and that continues to be the case. Budapest as a city certainly has experienced tremendous changes over the last few years. It has seen a renaissance in terms of architecture, culture and gastronomy. It is really a place that in addition to offering excellent business opportunities also offers a great deal to those who live here or visit.
As a conclusion, what would be your final message to our readers?
30 years after the changes began in this part of the world, Hungary is no longer a secondary destination. Central Europe and Hungary more specifically offer world-class opportunities in terms of economic growth, in terms of real estate development and in terms of investment. This economy shows more dynamism than most mature economies, and this is an excellent time to approach these markets. You are staying within the European Union, benefiting from the highest possible returns on investment, and benefiting from world-class organizations and services. WING provides world-class buildings and reliable investment products, and we do so while maintaining the highest standards of ethics, financial strength and professionalism.