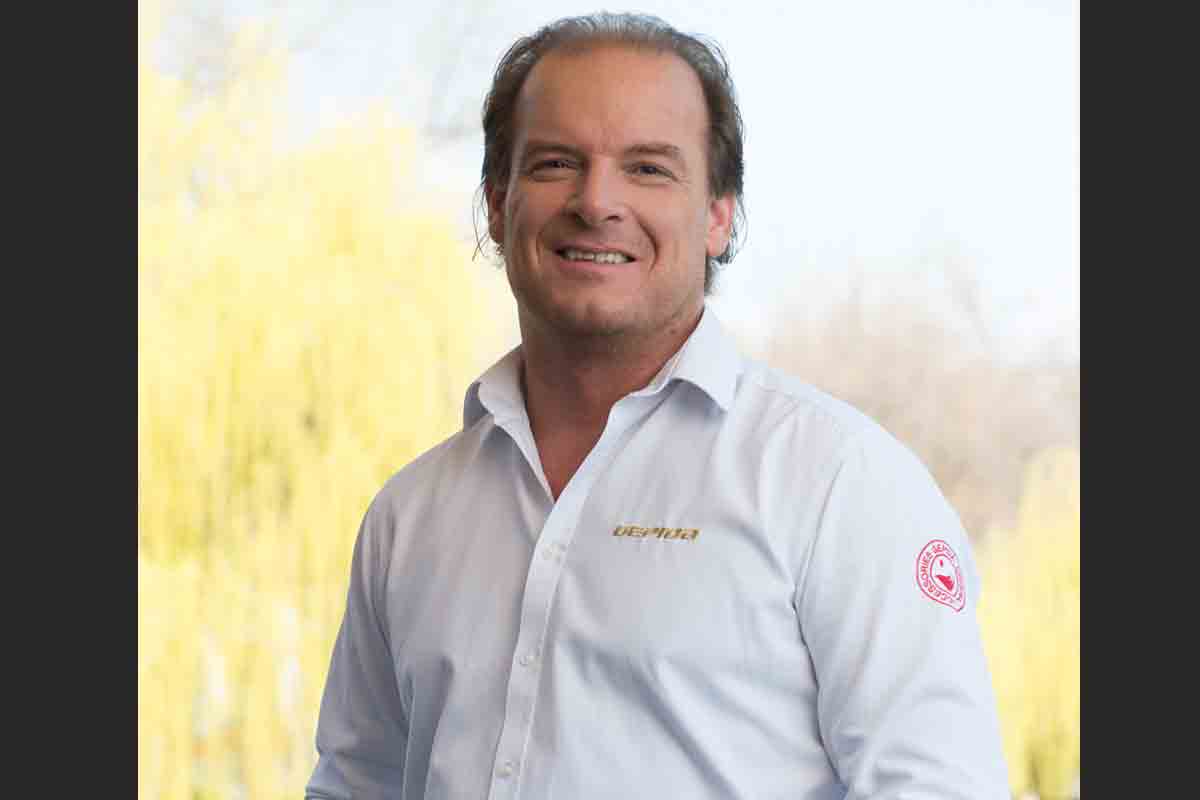 18 Oct

A fascinating success story 'made in Hungary'
György Berkes, Managing Director, GEPIDA, underlines that quality for the company is an absolute must
The company started back in 1993, from a 40-square-meter garage or repair shop that you rented in your 20's. You started importing bikes from Italy, and from there you have grown to be a leading bike manufacturer in Hungary. You are present now in the most famous bike races around the world. To start this interview, could you tell us about your corporate story? What was the vision when you founded the company? What were your ambitions back then, and what have been the key drivers that led you to such success?
The story of GEPIDA started in 1993 in a garage. At that time, we did not have a true vision, but we had the opportunity to get started in this sector. Initially we were selling our bicycles in supermarkets, but, after two years, I realized that it was not a good strategy, so we changed the business policy and focused on dealers. Hungary is a small country, offering limited possibilities; that is why we needed to export. We have participated in international events and exhibitions like the Cologne Show, and we have developed a great network, managing to aligned a few good partners step by step.
At that time we were focusing only on the price, that was our main direction. Yet, we realized this was not a good strategy, because there is always somebody who will go cheaper than you. We changed the strategy and started to develop unique things, such as our e-bikes. We were maybe the third company that began manufacturing e-bikes in 2000. Many companies were producing bikes, but only two or three had e-bikes in their portfolio. We tried a lot of things: we tried drive units and batteries from many manufacturers, before eventually collaborating with Bosch for our development. Since 2011, we are developing e-bikes together with Bosch, using their drive units. At that time, Bosch was also a start-up company. They were looking for new markets and they did not have too much partners or experiences on this market.
Since 2010, our strategy has been to focus on our products' uniqueness. We are not a big company, as we have 100 employees, and a turnover of about EUR 17 million. Yet we are planning to double this turnover within three years. As a medium-size company we are not in a position to compete with the big players out there: they have better purchasing prices, better financial support from their banks and they have a lot more capacity and manpower. We cannot compete with them only with price and quantity, but we found out that our way is uniqueness: to develop unique bikes for niche markets and go to new markets with those. In our portfolio we do have standard city e-bikes, but also a few special products/devices like tandem bikes, folding bikes, cargo bikes and gravel bikes with electric system. Only three companies are producing good tandem electric bikes.
Manufacturing unique products are opening new markets for us. With this strategy we do not need to produce thousands of bikes.
Can you give us some key facts and figures to understand the importance of your company in terms of sales, market share or global presence?
In Hungary we are the market leader in the e-bikes segment with approximately 40 percent market share, however this is still a small market. In Germany, in comparison, we are very small.
What would be some of your priority markets at the moment?
We have two distribution methods. The first one is to go directly to the country, which is what we do for instance in the Hungarian, Slovak, Czech, German and Austrian markets. We have our own people and employees representing our company and collecting orders, negotiating with the dealers and our partners. The second one is to collaborate with distributors, which we do mainly in those countries that are very far away from Hungary or that are a bit special like Switzerland. In Spain, in Belgium, in UK, in Ireland, in Italy, in New Zealand and in the US, we are working with distributors because they are far away from us and we cannot control these markets by ourselves. They know the markets better than us, and they have enough margins on the bikes, so they can work exclusively.
This year we launched our new sales channel in Hungary: the online web-shop. Dealers are like pickup points for end-consumers. We do the general marketing promotion from headquarters, but they make the service on the bike, they are responsible for the bikes, and we pay them commissions after every sale. We will start building the online business in Czech and Slovak Republic and Germany next season as well.
Are you looking at expanding your distribution networks, creating more partnerships?
We are in 30 different countries in total. However we do not have any presence in big markets like France, Portugal and some other countries. We are negotiating with five different distributors who would like to represent us in those countries.
Portugal is the biggest bicycle producer in Europe with 2.7 million units produced last year. It is followed by Italy, Germany, Poland and the Netherlands. Hungary ranks in the seventh place. What is your strategy to push your brands on the European markets to gain market share on them and get more exposure?
Portugal may be the biggest market in numbers, but their average prices are much lower than ours. Our overall market share by quantity is very small certainly, in Germany, we have maybe 1 percent global bike market. However, on the special segment where we have a strong presence, such as tandem bikes, our market share in all Europe averages 50 to 60 percent.
Portugal is mainly producing for Decathlon. Decathlon buys many bikes from Portugal and so average prices for Portuguese made bikes are very low, for normal bikes as well as electric bikes. Portugal is producing the lower-end electric bikes; we are producing the higher-end ones. Our electric bikes' average prices are twice more expensive than theirs. We have only 1 percent, they have 3 percent. We cannot be compared to them if we are only talking about numbers. 
We would like to grow further in that special segment, but not necessarily in quantity. We would like to offer additional value to our customers: putting on the market innovative, high-end, sophisticated products and additional services. Of course we would like to increase in number also, but this is not our first priority, we rather prefer to increase our average prices.
You are placing strong emphasis on a product development design as well, on precise assembly, modern technology and giving the customer value for money. To what extent are you also leveraging the 'made in Hungary' tag in your brand and your communication arguments?
Here in Hungary the 'made in Hungary' label is a very strong advantage. People in Hungary like to buy products made in Hungary. In the US, 'Made in Hungary' is equivalent to 'made in EU' and it means a very precise and good quality high-end bike. Overseas it also means 'made in EU'. In Western Europe, 'made in Hungary' is well seen as well, although 10 years ago, in Germany, for instance, it had a different meaning. Many Mercedes and many Bosch systems are made in Hungary, and many Hungarian companies have a good name in Europe.
GEPIDA is also very active in the manufacturing of biking equipment, so all sorts of equipment around biking. Do you have any further plans to diversify your activities?
We are not producing spare parts. We only created GEPIDA brand for accessory category. We started this business four or five years ago to serve our customers' needs. If you buy a brand new GEPIDA electric bike, you also want GEPIDA accessories with it, like GEPIDA basket, GEPIDA bag and so on. That was one of the reasons why we established this kind of parts.
In Hungary we have a very strong brand, everybody knows GEPIDA in this country. We would like to start licensing in different sport articles categories. GEPIDA is a patented brand name in many other fields all around the World, and we are open to license for same quality products or even sign any kind of licensing agreement. This is new in our business and what we would like to develop in the future.
What is your strategy to reinforce GEPIDA's brand awareness, to reinforce the company's image and create top of mind awareness within the bikers' community
We mostly communicate through the online platform, which is the best and most effective way to promote our products and services. We create a lot of PR content, lifestyle photos and we focus on online marketing, adverts and social networks. We believe this is the most effective way for more people to know about GEPIDA. We have very big plans but our main platform is online. In addition to that, we have test centres in different regions in Hungary and we promote the brand there. We would like to launch these in other countries as well.
It is said that with the pandemic, people have a tendency to use public transports less and rely more on single ways of transport including biking and e-bikes. Have you felt an effect of the COVID-19 crisis on your business activity? Do you think the demand has been growing?
The pandemic caused both sales record and chaos. Indeed, during the lock-down in Hungary, bicycle shops did not have to close as opposed to many other countries. At first it was a disaster: for 1,5 month we were expecting goods from China and Japan, but every country was locked. Shops were closed in Germany, Austria, Czech Republic and Belgium, so nobody had the chance to buy bikes. We were lucky that the stores in Hungary were open, it kept us moving, because we could sell bikes and we had income.
After the crisis everybody wanted bikes: people was crazy about bikes so we sold out everything. In the last 27 years we never had such sales record, and such high cash-flows, and as a result such low inventory!
Now we are fighting every day with our suppliers, because they have to produce 2 times more goods than one year ago before the COVID-19 crisis. It is impossible to produce so much. Everybody is sold out: shops, manufacturers. To fulfil this demand, twice as many goods are needed. Everybody used to have some stock at the end of the year: dealers, sellers or manufacturers, but now the whole chain is without goods.
As we are closing a heavy chapter with 2020 and looking at a fresh new start with 2021, how would you summarize your plans, your priorities for 2021 post-COVID-19 and in the longer term? What is your vision for GEPIDA? Where would you like to position the company?
Our positioning and strategy remain the same. We will continue manufacturing unique products. Where we do have to change is in our purchasing methods: we have to plan much longer ahead. Now we are planning for the 2022 season, we are already ordering goods for 2022, otherwise we will be late.
In addition, our development partner Bosch has opened communication from their drive unit for third parties, so we can start with our developments regarding the connectivity between companies, as well as fleets. Connectivity is very important, but until now we could not start this project, because Bosch did not have the open protocol for a third party. Now we can and we have a lot of ideas. We would like to make unique software, not only bikes but bikes together with software.
Another of our projects are focused on cargo bikes. There are many cities where you cannot go by car and the last mile delivery system in many areas is done by cargo bikes. Cargo bikes are a big trend but also a big challenge at the same time. The connectivity and communication with the companies' software are very important.
What would you like to share with our readers as a final message, as a conclusion?
No matter if you are a medium-size or a small company, you can still be a very successful one, if you produce special items, special products or you offer unique services, and if you are the best in your field. We usually think of numbers and turnover, but if your quality, your services and your products are high-end and unique, then it is a key for success. You can be the market leader in one segment. Whoever has a good special product can be a market leader. You do not need a huge factory and thousands of employees. If you have good ideas and you go in the right direction, you can be a market leader.